Ray-tracing with Typography in After Effects (Digital Tutors)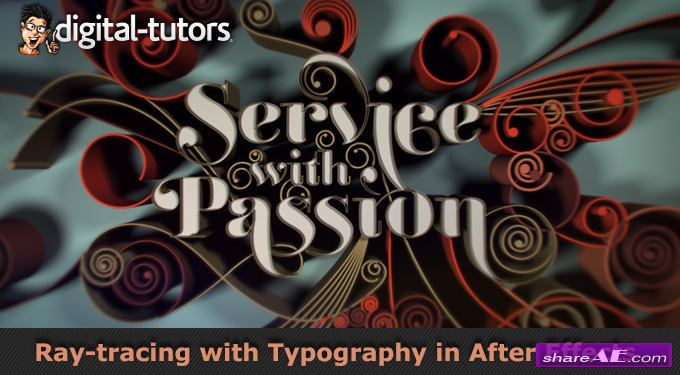 Ray-tracing with Typography in After Effects (Digital Tutors)
English | Team: N/A | .flv | h264, 1280?720, 15.00 fps | aac, 44100 Hz, stereo | 1.27 GB
Genre: eLearning
In this series of After Effects tutorials, we will learn how to use the new Ray-tracing feature in CS6 to create 3D animated typography and shapes.
We begin this tutorial in Illustrator, where we lay the ground work for our image. This creation step contains vital information for how the Illustrator file must be set up for it to work once it has been imported to After Effects. We use a few scripts that speed up our process tremendously for some of the more repetitive and tedious parts of the project.
Once we bring our illustrator project into After Effects, this is where the magic starts to happen. We learn some valuable time saving tips when working with Ray-tracing as well as lighting and rendering workflows to get the best possible render in the end.

This training offers a really unique approach to creating a beautiful typography animation as well as tricks that will stick with the rest of your workflow when you work on your own projects that deal with the same issues and goals.

By the end of the tutorial, you will have firsthand knowledge on interfacing between Illustrator and After Effects as well as some Ray-tracing workflows that will make your other projects way less time consuming. Best of all, if you work along side the step-by-step approach, you'll have your very own animated typography project complete with 3D depth, shadows, and some compositing tricks that really add polish to your final piece.
Ray-tracing with Typography in After Effects contents:

1. Introduction and Project Overview
2. Choosing your text
3. Using the Spiral tool
4. Joining paths to make the swirls longer
5. Adding smaller secondary spirals
6. Adding color with Graphic Styles
7. Using the Blend tool
8. Positioning the dots
9. Moving each path to a top-layer
10. Importing as a composition
11. Turning the Illustrator layers to shape layers
12. Using trim paths
13. Adding trim paths keyframes for the remaining layers
14. Adjusting the timing
15. Animating the dots
16. Adding the lights
17. Adding the Cameras with Null Controls
18. Switching from Classic 3D to Ray-traced 3D
19. Extruding the shapes and text
20. Preventing z-fighting
21. Fine-tuning the shadows
22. Rendering as a .png sequence
23. Adding motion blur to your render
24. Additional Compositing Polish
25. Rendering as an H.264
Vip / [DIRECT LINK | LIFETIME]
You are Guest, Please login or create new account and buy points

TO MAC USERS:If password doesn't work, use this archive program:
The Unarchiver
and extract password protected files without error.
TO WIN USERS: If password doesn't work, use this archive program:
WINRAR 5.50
and extract password protected files without error.
Information
Members of Guests cannot leave comments.