Videohive Youtube Essential Library | MOGRT - Premiere Pro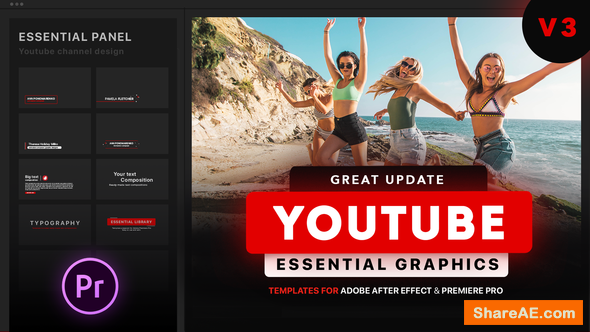 Youtube Essential Library | MOGRT 21655955 Videohive - Free Download Premiere Pro Templates
Software Version Premiere Pro CC, After Effects CC | No Plugin | Resizable | 475 Mb
Hey, YouTubers! We prepared for you a big channel design pack which contains more than 70 elements and make your content look more professionally!
You can use it with Adobe Premiere Pro Essential Graphics or Adobe After Effects!
All parameters could be edited in a few minutes. Adjust colors so it matches your identity and all that is left for you is to shoot your video!
It's a good chance for any vlogger to make their YouTube channel more stylish and beautiful. This YouTube design pack will save your time so you can focus on the content!
Why Choose It?
Your personal library for making YouTube channel more stylish
Html and gif previews for all scenes
Works in After Effects & Premiere Pro without any plugins
A few clicks installation script for Premiere pro
Video Tutorial how to use in Premiere
Video Tutorial how to use in After Effects
Video Tutorial how to install for Premiere
Work in from After effects cs 5.5 and above
Modular Structure
Well organized and easy can be customized
"Comps as project" folder – https://youtu.be/EDJlrY1B140?t=274
Huge controls like color positions
Smooth animations
Free fonts
100% After Effects and Premiere Pro
Easy duration control IN & OUT by markers
All colors are editable with powerful editing panel
Free updates & support
Works with ANY font
More than 70 compositions
Easy to use even if you are a Beginner
Clean After Effects project
Ready Placeholders
Fully Customizable
Fast Render
Modular structure
Color Control
Custom Size
The template includes
openers
transitions
elements
info bars
links bars
lower thirds
next episodes previews
comments bars
quotes bars
calls to subscription
typography titles
Requirements
For correct work with the essential graphics template you will need the latest version of Premiere Pro (2018 12.1.1)
To use the template in Premiere, you do not need After Effects.
To use in After Effects, you do not need to have Premiere pro and works well from CS 5.5
Before using please install all free used fonts ( all links available in help file )
To change the font for the title in Premiere Pro, you will need to choose font in After Effects and then re-save mogrt file for Premiere Pro. Check the tutorial
Change log
v3.2 – 28.06.2018
- Bug fixes 
- Improvments in Opener_5 composition and mogrt files.

v3.0 – 14.06.2018
Added 30 new compositions
Updated gif catalog with all compositions
Updated vide preview
Bug fixes
Improvements

v2.8 – 25.04.2018
Bug fixes, 
improvements in all compositions;
Added auto resize layers in some compositions;
Subscribe compositions now more editable(you can on/off Fb/Inst icon;
added some new sliders in .mogrt;

v2.7 – 23.04.2018
Bug fixes, 
improvements in some compositions (
easyedit_39_Links_1,
easyedit_39_Subscribe_2,
easyedit_39_Subscribe_1,
easyedit_39_Typography_2,
easyedit_39_Comment_2, 
asyedit_39_Links_4)
Added 2 new social media in links_4: VK, OK

v2.6 – 20.04.2018
Deleted – the installation jsxbin script
Added – all the mogrt files for manual installation
Improved – Now you do not need after effects to install the mogrt files
Updated Tutorial folder
Added project after effects with all scenes
Added comps as project for after effects
Renamed mogrt files for easy and fast navigation ( type "39_easyedit") in search field for show all aivailable mogrt templates.

v2.5 – 17.04.2018
- The main San Francisco font has been changed to OpenSans
- updated "used_fonts.zip" 

v2.4 – 16.04.2018
- Fixed problem with San Francisco font
- updated used fonts archive, 
if you have a problem with fonts you need:
1) re-download used fonts
2) install new fonts
3) repeat installation process for mort files

v2.3 – 10.04.2018
- now support the latest premiere pro version  ( cc2018 12.1) also
- updated used fonts, added missed fonts
- fixed bugs
- updated HTML catalog with the preview for all titles

v2 – 22.03.2018
optimization of the project
fixed bugs and improvements in essential graphics files
fixed bugs and improvements in after effects project
added comps as projects, so now it's cool and easy to use separated elements in your projects (check https://youtu.be/EDJlrY1B140?t=274 )
added markers for in and out animation in after effects
updated video tutorials

Vip / [DIRECT LINK | LIFETIME]
You are Guest, Please login or create new account and buy points

TO MAC USERS:If password doesn't work, use this archive program:
The Unarchiver
and extract password protected files without error.
TO WIN USERS: If password doesn't work, use this archive program:
WINRAR 5.50
and extract password protected files without error.

Information
Members of Guests cannot leave comments.