16 mm Film Overlays - Vamify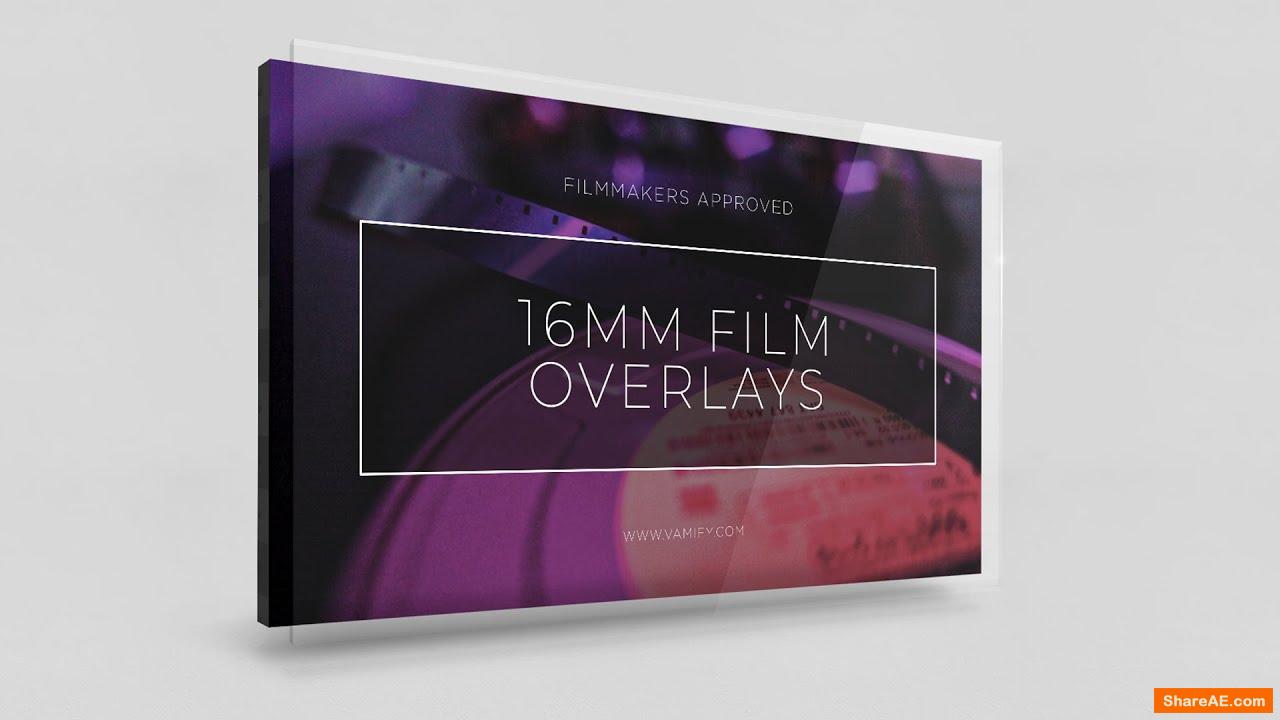 Free Download 16 mm Film Overlays - Vamify
Compatible with Premiere Pro, Final Cut Pro X, DaVinci Resolve, Avid Media Composer, Sony Vegas and After Effects
Desciption
Ever wished your projects would have the raw and unrefined feeling of real 16mm Film?
But working with real 16mm Filmstock ist costly, the results may vary and all in all the whole filming and evolving process ist exceedingly time and nerve consuming!
(To put it bluntly, a big pain in the ass!)
But here is the deal: David and I already went through all the hassle of shooting on real 16mm to create a whole bunch of natural and amazingly realistic 16mm Overlay Effects for you to play with.
The Filmlook has a big comeback and we wanted to give you all the chance of pushing your projects and match this retro trend. (But at a fraction of the production cost and time!) Use our 16mm Overlays, to give your digital footage the feel of the craft of analog film, while adding the spice of grain and texture to your videos.
This is how we created our new Pack:
First we had to find a place that still sold 16mm Filmstock. Then we went to our trusted film equipment rental store and got the ARRI 416 with Zeiss Super16mm lenses, as well as several mags and other stuff like light meters. For shooting we used Kodaks Vision3 film. We had lots of fun, while working with this set-up. Even though it was time consuming and quite costly, it sure was worth making this filming experience. A big problem to us (for we are located in Germany), was the whole process of acquiring the Filmstock, getting it developed and scanned. Since all the material had to be transferred back and forth between Frankfurt and the Kodak Studios, London. You see, especially Europeans will need lots of time and patience, when working with 16mm.
This is why we regarded the creation of our 16mm Footage as an investment in our future work schedule. We are now able to offer the popular Filmlook at a lower production price, there is no risk of losing footage in the mail and on top we can operate more efficient!
The Pack will safe money, we can now spend on other assets or keep to ourselves!
We admire the work of Creatives in Music- and Filmindustry, with actual film. Achieving that look was our main inspiration and goal. The material was shot with 3 different Filmstocks. As a Bonus we added some interesting and authentic sounds from recording with the ARRI 416 Camera. The 16mm Overlays Pack is built to enrich digital footage with the beautiful little flaws and the structure of real film.
Create the sophisticated, Million-Dollar-Budget-Filmlook you always wanted! Jump right to the fun part of enhancing your footage, save your time and money! 
Impress your audience and let your creativity flow!
Best 16mm Film Overlay Pack on the market
Compatible with Premiere Pro, Final Cut Pro, DaVinci Resolve, Avid and more
Real KODAK 16MM Film Overlays
20 Real Film Overlays
17 Real 8mm Film Transitions
10 16mm Soundeffects
25 Graphic Overlays
From Filmmakers for Filmmakers
Tutorial for Adobe Premiere + FCPX is included

Vip / [DIRECT LINK | LIFETIME]
You are Guest, Please login or create new account and buy points

TO MAC USERS:If password doesn't work, use this archive program:
The Unarchiver
and extract password protected files without error.
TO WIN USERS: If password doesn't work, use this archive program:
WINRAR 5.50
and extract password protected files without error.
Information
Members of Guests cannot leave comments.