Red Giant Universe v1.4.0 Premium CE (Win64)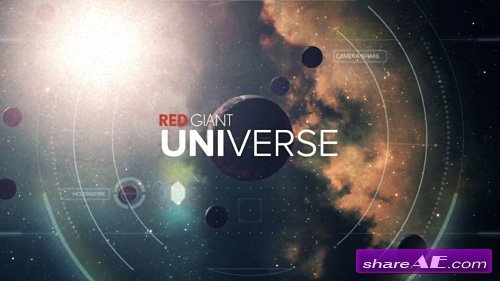 Red Giant Universe v1.4.0 Premium CE (Win64)
An expanding library of tools for filmmakers & motion designers that gives access to fast and powerful tools for editing, filmmaking, visual effects and motion design. Every tool in the Universe library of effects and transitions is GPU-accelerated, and works across multiple host applications including: After Effects and Premiere Pro. The Universe library of tools is continuously growing - new effects and transitions are added regularly, and existing tools are updated often, based on user feedback.
89 tools in the Universe 1.4 library:
42 Premium tools:
• 3D Blinds
• 3D Cube
• 3D Fold
• 3D Inside Cube
• 3D Rubics Cube
• 3D Slide
• 3D Unfold
• Carousel
• Chromatic Aberration
• Chromatic Glow
• Diamond Wave
• Finisher
• Fisheye Fixer
• Glimmer
• Glitch
• Glitch Transition
• Grain16
• Halflight
• Holomatrix
• Holomatrix EZ
• Knoll Light Factory EZ
• Knoll Light Transition
• OverLight
• Picture in Picture
• Prism Displacement
• Retrograde
• ShrinkRay
• SplitScreen Blocks
• SplitScreen Custom Blocks
• Texturize
• ToonIt Cartoon
• ToonIt Outlines
• ToonIt Paint
• ToonIt Presets
• ToonIt Retouch
• ToonIt Sketch
• ToonIt Thermal
• ToonIt Transition
• Triangle Wave
• Turbulence Noise
• Turbulence Noise EZ
• VHS
47 Free plugins:
• Billowed Background
• Blackhole
• Blur
• Camera Shake
• Channel Blur
• Checkerboard
• Color and Gamma Conversion
• Compare Frames
• Compound Blur
• Diffuse Glow
• Edge Glow
• Elliptical Distortion
• Exposure Blur Transition
• Fade In
• Fade Out
• Fill Alpha
• Fish Eye Distortion
• Flip
• Glo Fi
• Glow Highlights
• Grid
• Hyperbolic Blur
• Hyperbolic Dissolve Transition
• Luminance Noise
• Magnetic Displace
• Masked Blur
• Masked Clone
• Masked Mosaic
• Noir Moderne Light
• Photo 2
• PixelGlow EZ
• Radial Blur
• RGB Displacement
• Ripples
• Rotate
• Shutter
• Simple RGB Separation
• Singularity
• Sobel Edges
• Soft Edge Wipe
• Streak Blur
• Swish Pan
• Three Color Ramp
• Two Color Ramp
• Venetian
• Zoom Blur
• Zoom Blur Transition
More tools will be added regularly.
Tool Gallery:
Red Giant Universe 1.4- A new update to Universe that includes new free and premium tools, and Hitfilm 3 Pro support. In total there are 8 new tools (4 free and 4 premium), bringing the Universe library to 89 effects and transitions.
Some of my favorite tools in this release include Texturize, Knoll Light Transitions, and Soft Edge Wipe (a free tool that was created based on the voting in Universe Labs).
Knoll Light Transitions: A transition that uses animated Knoll Light Factory flares, with 20 unique presets to quickly move you from shot to shot. Includes control over brightness, angle and edge feathering, and a choice of a dissolve or linear wipe transition.
Texturize: Quickly give your footage a Walking Dead-style grungy textured treatment. Texturize's seamlessly tiling textures make it easy to animate and bring life (or death) to your video or still imagery.
Requirement: (Windows)
- Windows 7, 8 (64-bit)
- After Effects CS5.5 through CC 2014
- Premiere Pro CS6 through CC 2014
- Sony Vegas Pro (64bit)
- DaVinci Resolve 11.1 or later
- HitFilm 3 Pro
NOTE: Universe does not support After Effects CS5 or Premiere Pro CS5.5[/center]
Release Name: Red Giant Universe v1.4.0 Premium CE Team V.R private build
Program Type: Video plug-ins
Developer: REDGIANT
Release Date: March 10th, 2015
Homepage: REDGIANT
Language: English
Platform: Win64
File Size: 421,27Mb
info: https://www.redgiant.com/store/universe/
Vip / [DIRECT LINK | LIFETIME]
You are Guest, Please login or create new account and buy points

TO MAC USERS:If password doesn't work, use this archive program:
The Unarchiver
and extract password protected files without error.
TO WIN USERS: If password doesn't work, use this archive program:
WINRAR 5.50
and extract password protected files without error.
Information
Members of Guests cannot leave comments.