ShareAE » Tutorials » Intro to Video A Photographer's Guide to Filmmaking + BONUS Intro to Premiere - FStoppers
Intro to Video A Photographer's Guide to Filmmaking + BONUS Intro to Premiere - FStoppers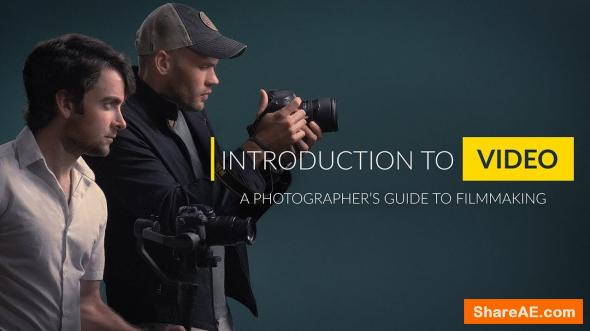 Free Download Intro to Video A Photographer's Guide to Filmmaking + BONUS Intro to Premiere - FStoppers | 9.18 Gb
As more and more people call themselves "professional photographers," the need to diversify and offer other services to your clients is rapidly growing. With social media and advertising visuals fighting for more and more of our attention, the importance of video is at an all time high. Luckily, if you are a photographer, you already have 90% of the tools you need to start making professional videos and multimedia productions. This new Fstoppers tutorial on videography is aimed at helping both professional and amateur photographers take the gear they already own and start producing high quality videos. There is no better time to learn how to film video than right now!
Intro to Videography
The idea behind the Fstoppers website was first born back in 2010 when Patrick Hall and Lee Morris both had an interest in learning how to shoot video. Having both been successful wedding photographers, Patrick and Lee saw the value videography could supply to their own photography businesses. Over the years, Fstoppers has grown from a little side project used to explore behind the scenes videos into a full blown world wide community of photographers and videographers. Since 2010 when DSLRs first started shooting high definition video, Lee and Patrick have seen photographers and social media influencers transitioning to video at an alarming rate. In today's cut throat market, the trend is very clear: if you are not incorporating video along side you photography, you are going to get left behind.
The good news is that it has never been easier for a stills photographer to transition into videography. Almost every digital camera sold today has the ability to shoot high quality 1080p or 4K video. Most of the lenses and tripods you already own can also be used to shoot video. In many cases, your camera's sensor can actually out perform many much more expensive video cameras in both low light, frame rates, and shallow depth of field. If you are already experienced with obtaining proper composition, exposure, and focus, switching over to video can be a fast and easy transition.
Topics Covered
Understanding Different Resolutions and Frame Rates
Working with Log, Color Grading, and Color Profiles
Exposure: Aperture, Shutter Speed, and ISO
Using Different Cameras and Lenses
Mastering Focus with Video
Using Cheap and Expensive Constant Lighting
Adjusting White Balance and Tint
Using External Microphones
Recording Audio In Camera and Externally
Editing in Adobe Premiere
Syncing Audio with Multiple Cameras
How to Create Timelapses
Filming in Slow Motion
Stabilizing Your Camera
Adding Smooth Movement to Your Footage
How to Film a Short Commercial
Vip / [DIRECT LINK | LIFETIME]
You are Guest, Please login or create new account and buy points

TO MAC USERS:If password doesn't work, use this archive program:
The Unarchiver
and extract password protected files without error.
TO WIN USERS: If password doesn't work, use this archive program:
WINRAR 5.50
and extract password protected files without error.

Information
Members of Guests cannot leave comments.